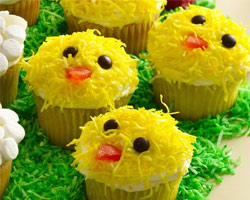 Cup Cakes with Blended Food Colors
-
foodchem
Blended colors, as the name suggests are made by mixing two or more kinds of different food colors for the desired color result. Since the number of natural food colors available in the market are limited, so a large number of colors are artificially made using various chemicals. Blended food colors are the mixture of two or more water soluble food coloring agents that are combined in numerous ways to produce a vast array of shades. 



The process of manufacturing blended food colors involves a deep in-house research where great care is taken to ensure that they match international food quality standards. Blended food colors form the most widely used products as they are non-reactive and comparatively much stable than other colors. 



Blended food colors can also be created depending on the customized demand of the consumers. The most commonly used blended food colors include:



Lake Food Colors
Lake blended food colors are the most popular kind of blended food colors. These lake blended food colors are used in variety of industries like pharmaceuticals, plastic food containers etc. Lake food colors are basically the pigments that are made by the dispersion of colors having different concentrations. 



There are many advantages of using lake food colors as these are very stable in water soluble dyes. Also lake food colors are soluble in oil so can be mixed in vegetable fats and oils. Lake blended food colors are versatile and adoptable because of the inert absorption compounds. 



Lake quinoline yellow, Lake tartrazine, Lake sunset yellow etc are few examples of lake food colors. 



Applications of Blended Food Colors
Blended food colors are used in all sorts of food industries and products like sweets, fruits, ice creams, pharmaceuticals, fruit drinks etc.
Example of Blended Food Colors
| | | |
| --- | --- | --- |
| | | |
| Lemon Yellow-EN | Orange Red-JP | Pea Green-FR |
| | | |
| Chocolate Brown-DE | Raspberry Red-ES | Black-TR |
| | | |
| Falsa-PT | Strawberry Red-RU | Pink-AE |
| | | |
| Purple | Saffron | Egg Yellow |
Agar Agar Strip Halal   Nature Vitamin E supplier  Apple Pectin CAS 9000-69-5